Using a Dynamometer to Test Hand Strength
By Tom Black
Most people who train grip recognize that heavy duty torsion spring grippers, while a great training tool, fall short in "testing" their comparative grip strength because of the grippers wide variance within the same model. So while it could be said that someone can close a #2 or a #3 gripper then the first obvious question would be "which #2 or #3 gripper." Dynamometers (or as I like to call them "Dyno or Dynos") bridge the gap from training to testing.
As many readers of Bigsteel know I've done more than my share of testing with grippers. I was searching for a good dynamometer for a long time, but most models only went up to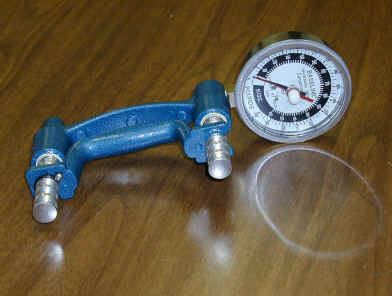 Baseline 300-pound
Hydraulic Hand Dynamometer
200-pounds. I felt that my grip strength may have already been near that mark and didn't want to buy a device that I couldn't use if I got stronger. I was interested in a precision device, and I felt the Baseline Hydraulic or Jamar type Dynamometers were the best design because they could be adjusted for hand size. They also do not have a spring (being a hydraulic device) and I felt that they would be more consistent over time since springs are known to change characteristics as they get older. The Jamar Dynamometers, however, do not have the capability to read as high as the Baseline, topping out at 200-pounds.
Upon researching the subject I discovered that Baseline had fairly recently come out with a 300-pound hydraulic hand dynamometer and I found an excellent price (which I honestly don't think can be beat) from Wisdom King.com (See links below).
Testing Grip Strength with the Dynamometer
Unfortunately for me, I underestimated the severity of an injury I had at the time that I purchased the Dyno and could not do as well as I'd hoped on the device. Still, I could
To learn training techniques with heavy grippers, check out Steve Gardener's Gripper Book! If you serious about building grip strength this book will take you to the next level.
squeeze 85kg, but felt it was no where near my best (because it really hurt my arm to squeeze it!) Interestingly, as I've begun to heal I have only inched up to 86kg (or around 189-pounds). I have been told by good authority that 85kg is still a very good squeeze and that most Captains of Crush cannot do over 100kg's. I really like the adjustable hand size and feel that this is a much fairer test of hand and grip strength.
I was extremely impressed by the quality of the Baseline Dynamometer, it was a true medical grade testing device.
Pinch Grip Testing
Baseline and Jamar also sell pinch grip testing devices, all available from Wisdom King. I did not buy these testers, but wonder if some day I'll regret that decision. Like the hand strength dynamometer, these testers come in two strengths, and most grip trainers would probably opt for the device with the higher reading capability (95-pounds). These companies also sell a digital model of these testers, but the price is over double the standard models! I actually could use the dynamometer that I bought to do a make-shift pinch test, with the numbers somewhat reflecting what I could actually do with plates. Basically I just held my hand in a pinch position over the handles.
Grippers verses Dynamometers
In my True gripper force article I made some predictions of gripper strength verses dynamometer tested strength. Since my strength dropped from my long lay off (nearly 5 months) I was able to verify my theory with my old Master gripper (like a very hard #2 gripper). First training day back I was a pennies width away on this gripper (sad considering I had done over 10-pounds on a straphold with the same gripper) and tested my strength as 185-pounds immediately after resting after that attempt. The next week I closed the Master and registered 190-pounds. This particular gripper is probably very similar to the older #2 grippers, with a deep pinned handle set into the springs. It is fairly old now, having been used for a few years, and probably is a bit below its former strength, so 190-pounds appears to be right in line with Richard Sorin's numbers from years ago. This should be no surprise to most people who know Richard, who owns many a dynamometer and had done many comparisons and tests himself a few years ago.
(Note: I purchase the baseline 300lb dynamometer with the case. I highly recommend the carrying case, it is well worth the small additional amount).
Dynamometers at Wisdom King
Baseline Dynamometers at Wisdom King:
300-pound Dynamometers:
200-pound Dynamometers:
220-pound Dynamometers (100-kg):
Grip and Pinch Dynamometers:
Baseline 300-pound Hydraulic Hand Dynamometer with Large Head, 95-pound Pinch Gauge with Large Head and Stainless steel 6" Goniometer. Includes case- View Details. Note: This struck me as the best combination package of grip and pinch gauge, but see the Main Dynamometer page for all the products if interested.
Jamar Norms Wall Chart:
Grip and Forearm Strengthens:

Various forearm and grip strengtheners at MegaFitness.
To learn training techniques with heavy grippers, check out Steve Gardener's Gripper Book! If you serious about building grip strength this book will take you to the next level.
Another great hand strength option is the Clubbell, the modern improved Indian club. Click here for details.

---

Ivanko Supergripper

The Ivanko Super gripper is a popular gripper among those who specialize in grip training because of its adjustability.

Click for More Info from Ironman Magazine

---

If you want to improve your results on a dynamometer consider purchasing the Jackhammer:

Click here for more information


---
Article copyright November 2003.
Number of times this page has been viewed since November 14, 2003: