See strongman in training, Marc Randulich, burst a soda can in the Readers Gallery.

My new article, Iron Indian Club Swinging and Leveraging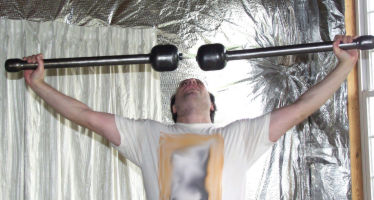 describes a typical workout with heavy Indian clubs. At right is a double overhead lever with my training weight of 15-pounds right and 13-pounds left.

I've written many new short articles on training techniques for the The Iron Barbell, a site devoted to old-time physical culture combined with modern training methods. Their article section spotlights some great old-time exercises that are largely forgotten, but that will give you great results in your training.



Check out Big Steve McGranahan spotlighted in the readers Gallery.

It's amazing how many people have asked me over the years how to increase their Bench Press. Frankly, as a "grip guy" I really am not the person to ask! The guys from Critical Bench, on the other hand, will show you how to increase your bench. See also two articles at Bigsteel from Critical bench- 22 Steps To A Bigger Bench Press and Heavy Negatives are Positively a Good Idea.

I just recently discovered a cool grip machine called the JackHammer. I will provide more details later right here on Bigsteel, but until then Click here for more information and then select "JackHammer" off the left menu (2/18/2004).

In association with Amazon.com you can now browse the Entire Amazon Store at Bigsteel. This fast search tool and directory is actually faster than searching at Amazon itself!

Bigsteel has always been about the History of the Iron Game, as well as its present and future. I've recently searched through the vast database at Abebooks to create this new Rare Book Page showcasing many great books on weightlifting and strength.

A Dynamometer is a great way to test hand strength, see my new article Grip Strength Testing and my review of the Baseline 300-pound dynamometer. (11/14/03).

The new Bigsteel Fitness store contains over 100 products for weight and aerobic training from quality brands. I'll be adding new products every few days. Find the Original Texas Power Bar and more. Go to the Bigsteel Fitness Store.

Bigsteel's latest addition to the Readers Gallery is Greg Matonick. See him bend a bar over his nose, a 12"x3/8" spike over his leg and blow up a hot water bottle. Gallery. (10/30/03).

While not related to strength I have recently expanded my photography page with pictures I have taken over the years.


If you haven't done so already please check out the new the Bigsteel Book Store & More.




I only recently became interested in trying horseshoe bending. I was unsuccessful years ago trying to bend horseshoes that, as it turns out, were exceptionally strong. After getting some partial bends of these hard ones last month I found that I could bend the type of horseshoe below into a full S-Shape.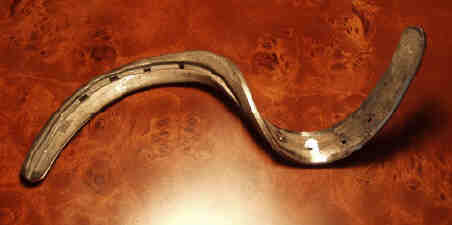 Since this bend I've also bent a shoe that had about 20% more steel and it thus was proportionally harder. The harder shoe was about the same strength as the Crescent Wrench below, but it took more endurance to bend, requiring three big bends to actually get it spun around in the position shown.
(bent July 7, 2003).

Bigsteel readers are also on a quest for strength. Hence, I have begun the Bigsteel Readers Gallery. Guidelines for submitting pictures to the Gallery are in the Call for Pictures. (3/5/03).

After meeting Dennis Rogers at the AOBS dinner I was inspired to try and bend a crescent wrench. I have not been bending lately, letting old injuries heal themselves. It's hard for me to stay away from bending long and I decided
to try again. I've tried to bend this particular 8" wrench before when I was near my peak. Nothing happened the last time I tried. I commented to a friend then that someday I would pull it from my toolbox and I would know I could bend it. I guess the day had come for this to happen because before the bend my hands felt good and I saw in my mind that the steel was not that strong, after all, Dennis can bend even bigger and thicker 10" wrenches. I bent the initial bend without bracing my hands, but finished the bend off with my forearms resting on my thighs. The wrench was admittedly a cheap one, but it is labeled "Drop Forged." (9/29/02).

Here is another great picture from Saturday, June 22,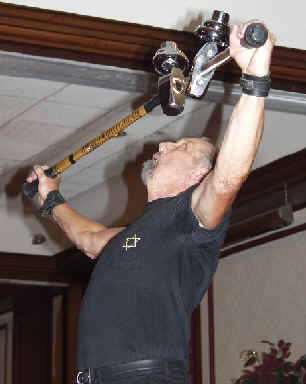 2002 and the Association of Oldetime Barbell & Strongmen annual reunion Dinner. This is Slim the Hammer Man Farman, many times referred to as the greatest living strongman. He certainly put on a show, and at around 70 years of age! These are two 17-pound hammers which were first lifted to the rear "Weaver stick" style. Slim then swung them and reversed the grip in his hand. Once overhead he brought them all the way down to his nose. For those of you out there who have tried this, note the height of Slim's hands and the angle of the handle to the floor. Slim actually brought the hammers farther down so that they were parallel to the floor, and the full torque of the weight pulling against his hand and wrist. 7/10/02.

On Saturday, June 22, 2002 I attended the Association of Oldetime Barbell & Strongmen annual reunion Dinner. History was made this night as Mark Henry cleaned and pressed an Inch dumbbell replica.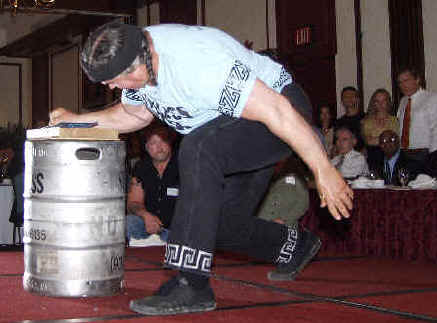 More photos that I took of the event are here. I saved this picture of Stanless Steele for my web site because I haven't seen any pictures of Stan on the web He is plunging a 30-penny nail through 2 license plates and a board. The picture was caught at the moment of impact. Dennis Rogers and Slim the Hammer Man Farman also wowed the crowd with spectacular feats of strength. Check back for future descriptions and pictures of the great feats of strength performed at the event. (6/24/02).

Feats of Strength News Portal Archive.
Please read my Dedication page and tribute to the Mighty Atom.


Please See my new article on Natural Soap.
.

For Cross-trainers and Running Shoes see Shoe Collections.com. For healthy hair see Hair style plaza.
Number of page views since June 29, 2000: